Sustainable potash production
for a sustainable future.
Feeding an estimated 10 billion people by 2050 makes food security an ongoing challenge. Gensource aims to help farmers produce bigger and healthier crop yields with potash, a necessary component in fertilizer. Unlike traditional potash companies, our innovative production methods are sustainable at every step. What's more, vertically integrated business operations make for a sound investment.

OUR VISION
Achieve food security by supplying the world with a key macronutrient at an affordable cost within an open, transparent, and sustainable environment.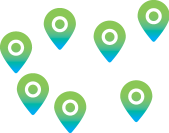 OUR MISSION
Create a series of independent, scalable, and environmentally sustainable potash production facilities in Saskatchewan and the world.

OUR VALUES
The core priorities for Gensource are integrity, openness and forthrightness, innovation and social responsibility.