Named after the village of Tugaske, this project will be developed on Gensource's wholly-owned Vanguard Area. The plant site will be constructed on land that has no environmental sensitivities or concerns. With the environmental assessment approval already complete, the Tugaske Project is ready to proceed to construction upon securing project financing.
Tugaske Project highlights

Feasibility Study
complete

Environmental Assessment
complete

Plant Site Land Option
Agreement in place


Offtake with Helm
Fertilizers

Equity Partners identified
and shareholder agreement
underway

Lead debt arranger
mandated
This greenfield construction project requires minimal footprint and is near key infrastructure such as highway & rail access, natural gas, power, water, and labour.
Similar to other Gensource module designs, the Tugaske Project will produce a minimum of 250,000 tonnes of muriate of potash (MOP) per year. HELM Fertilizers Corp, a US-based subsidiary of HELM AG, has agreed to purchase 100% of the annual production from the Tugaske Project and market directly to its customers using its own infrastructure.
Tugaske will be one of the lowest cost producers in the industry.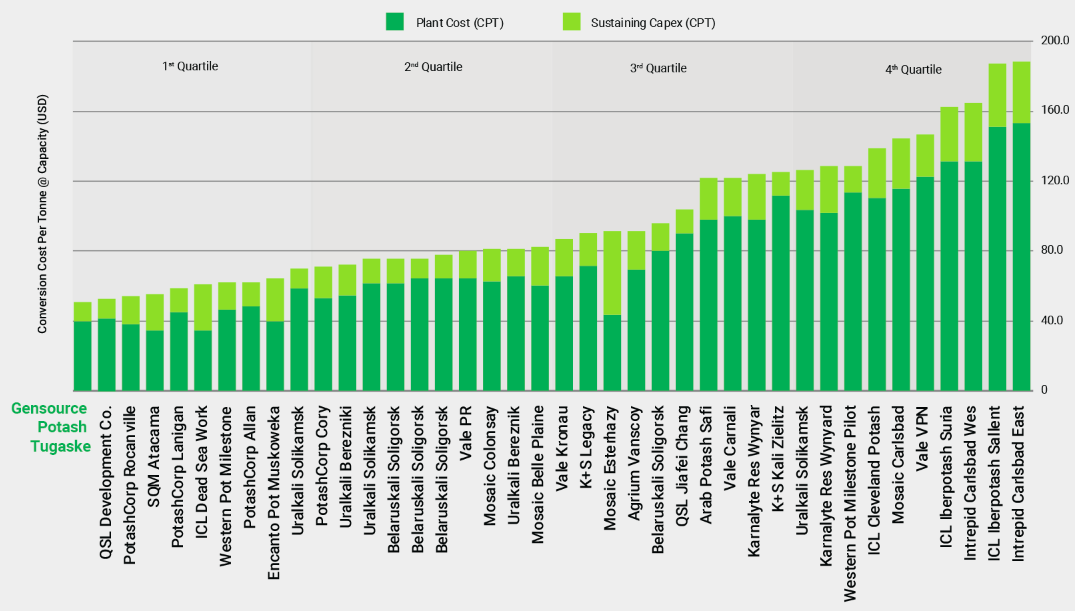 Tugaske Project: ownership structure.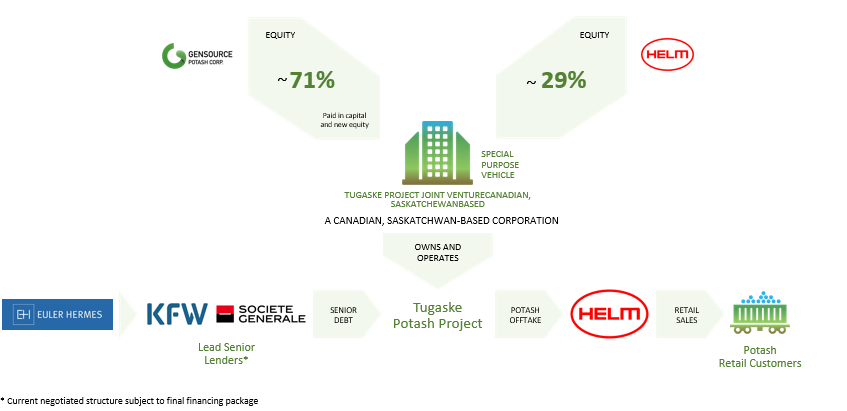 Tugaske Project's major milestones.
Two wholly-owned potash-rich properties.
Multiple project opportunities.
The Vanguard Area is 100% owned in central Saskatchewan, located 170km South of Saskatoon, 150km North-West of Regina (Saskatchewan's two largest cities) on a provincial highway system. The Tugaske Project is located in this area and other area highlights include:
Over 70,000 acres of subsurface mineral rights available for mining
Comprises two subsurface mineral leases, KL 244 and KL 245 and a potash permit area, Block 59 (Subsurface Mineral Permit 200), surrounding the villages of Tugaske (RM of Huron No.223) and Eyebrow (RM of Eyebrow No.193)
Gensource exploration activity includes four cored exploration wells, as of December 2019, and a 3D seismic program covering over 34 km 2 within KL 245
Close proximity to essential utilities and services (rail, road, gas, power, aggregate, etc.)
Key infrastructure required for construction and operations is in place and very accessible
Mostly agricultural land with few environmentally sensitive areas
Strong local community and provincial support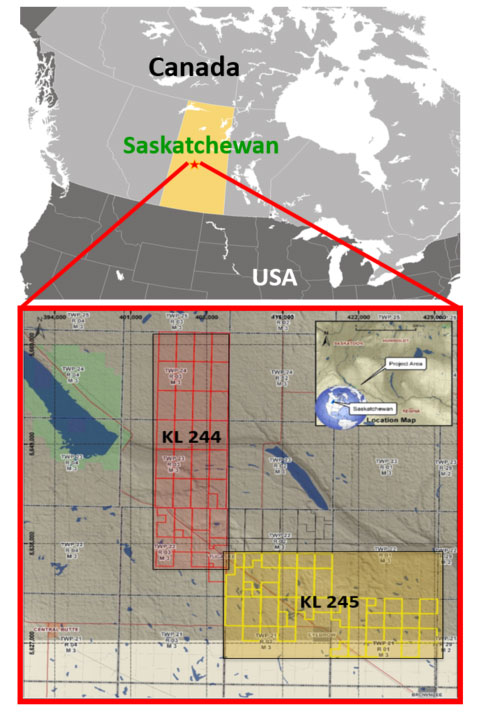 Vanguard Area property boundaries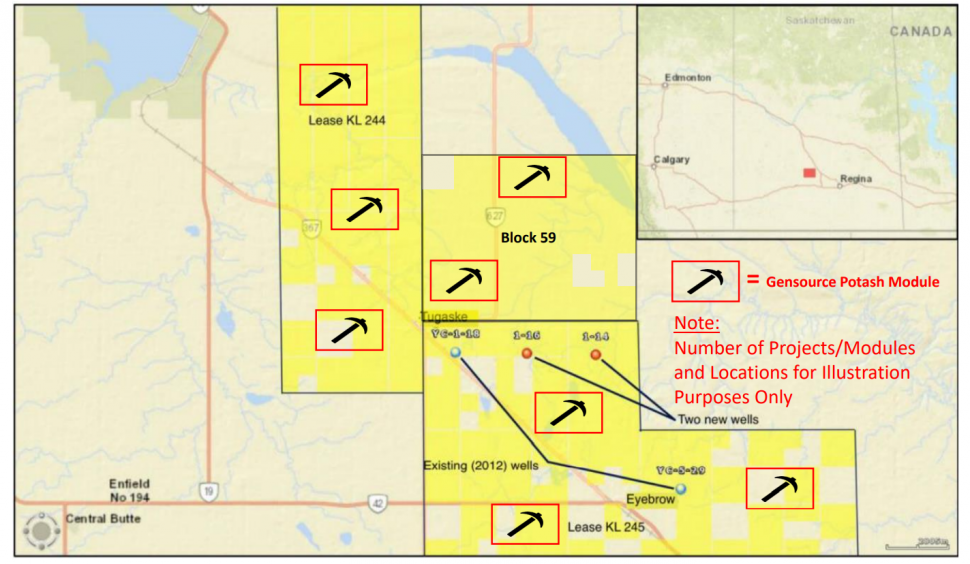 Vanguard Area potential projects
The Lazlo Area is located in central Saskatchewan along an infrastructure corridor between the major population centres of Saskatoon and Regina. The Area is located over a thick and rich region of the Prairie Evaporite formation known locally as the "Davidson Sub-basin".
It's a very prospective area within the Prairie Evaporite and boasts:
Central SK location, near the town of Craik on a well-serviced infrastructure corridor between Regina and Saskatoon
Highway 11 runs through the property
Rail line runs through the property
HV Power runs through the property
Total area 123,000 acres
Several projects or mining blocks identifiable within the one area
3 on-property historic drill holes
Historical NI43-101 indicates excellent grades, thickness, and temperatures
Potential projects within the area are made up of freehold mineral leases (21 years duration with renewal built-in), plus a novel approach to engaging the interspersed Crown minerals.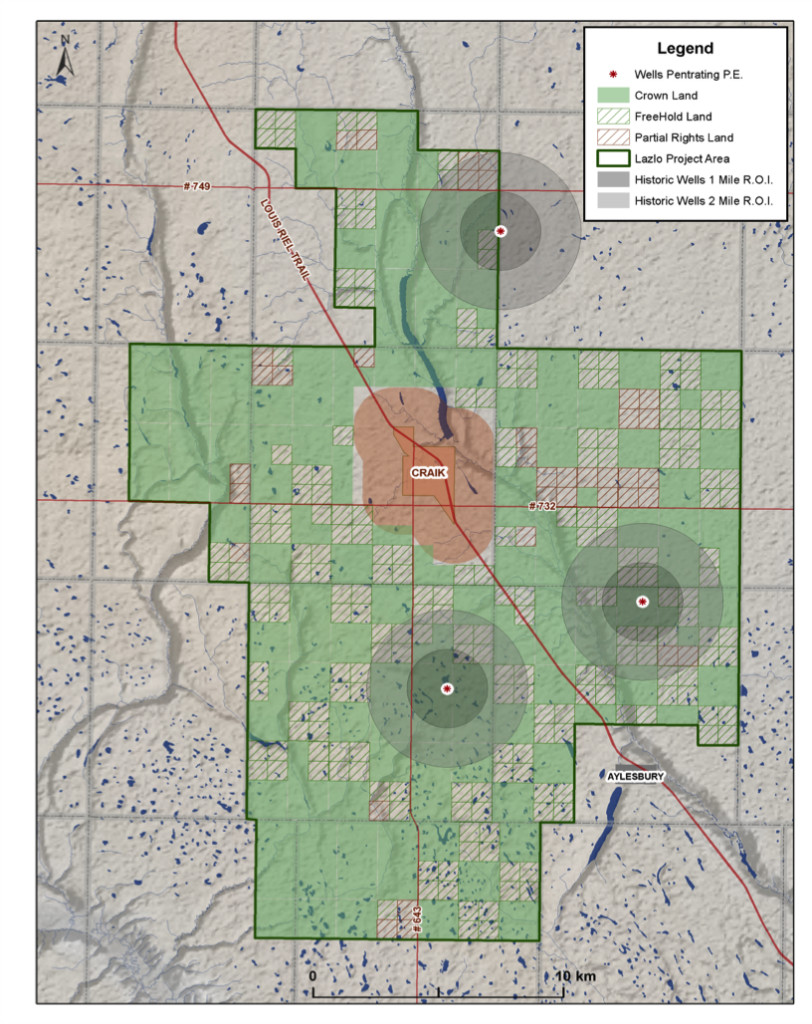 Lazlo Area property boundaries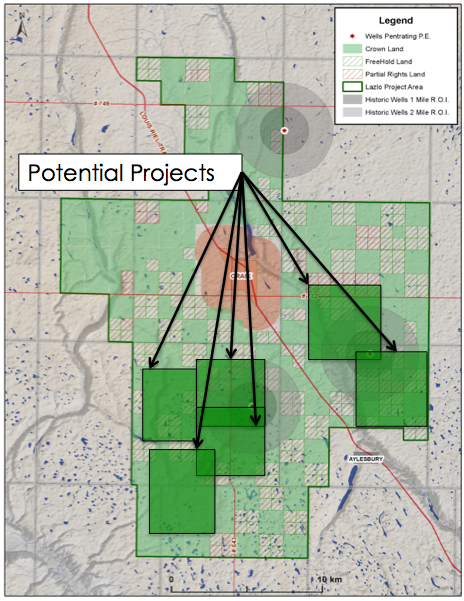 Lazlo Area potential projects