100% owned Vanguard property in central Saskatchewan.
Comprises of two subsurface mineral leases, KL 244 and KL 245, surrounding the villages of Tugaske and Eyebrow
Two cored exploration wells completed in 2012, plus two additional cored wells completed early 2017
Over 100 km of 2D Seismic
3D seismic program covering over 34 km2 within KL 245
Close proximity to essential utilities and services (rail, road, gas, etc.)
170km South of Saskatoon, 150km North-West of Regina (Saskatchewan's two largest cities) on provincial highway system
Mostly agricultural land, cultivated, with few environmentally sensitive areas
Strong local, community, and provincial support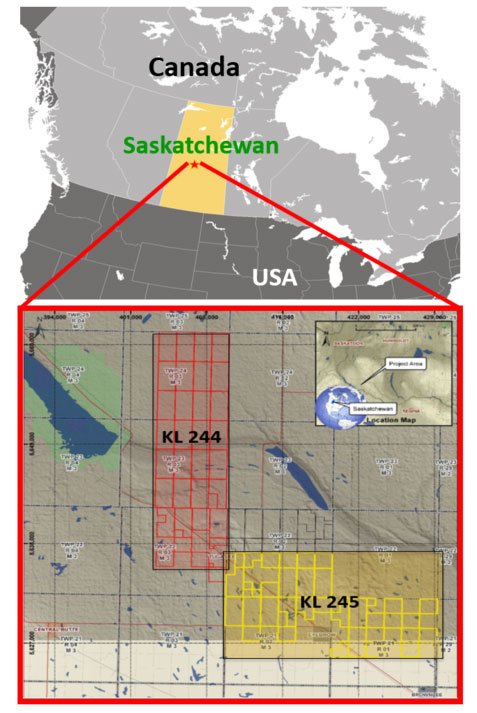 Concept (Key Differentiators)
Small scale production facility with a target production rate of 250,000 tonnes per annum (t/a)
Solution mining using a proprietary selective mining technique, allowing for selective dissolution with enhanced crystallization recovery
Environmental impact will be minimal compared to typical potash mines, due to the lack of brine ponds and no salt tailings on surface.
No freshwater or surface water required for mining – lower quality brackish ground water is sufficient.  Processing and other water will be sourced from other ground water sources.
Facility is scalable, and several plant site "modules" can be constructed in a small area
Potash production is "pre-sold" under Gensource's vertical integration business model.
Direct-ship transportation to pre-identified end user, either in bulk or bulk-in-container, via rail to tidewater (East or West), ocean freight
Lightning fast project development timelines as compared to traditional potash projects; Gensource can move a module from concept to production in less than 3 years

Gensource Small-Scale, Selective Solution Mining "Module"
Gensource is NOT a traditional/conventional Potash Mine. A Gensource module has the following advantages over other types of potash mines.
A Gensource module is: Small
Each module is an independent unit, economic on it's own, and is designed to produce 250,000 tonnes per year of salable potash (this is approximately 1/10th of the annual production of a typical potash mine in Saskatchewan)
A module is "right-sized" for rural Saskatchewan: Smaller consumption of utilities, and lower impact on community infrastructure
Entire site footprint is only a few hundred metres across and can fit on just over 20 acres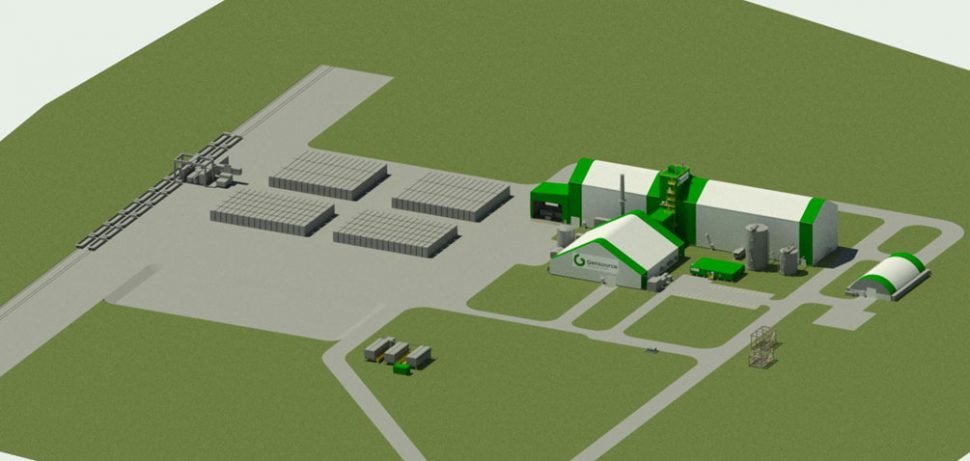 A Gensource module is: Scalable
Layout can accommodate doubling of capacity, without a footprint increase
Existing layout can accommodate 2 weeks of production storage in shipping containers, and a second 250,000 t/a module if desired (bringing total annual production to 500,000 t/a)
Alternatively, the process can be scaled-up, and one larger 500,000 t/a module can be constructed
In either scenario, the overall CAPEX $/tonne and OPEX $/tonne are decreased; making for even better economics

A Gensource module is: Repeatable
Gensource's Vanguard Area can support several projects or modules (i.e. Vanguard One, Two, Three, Etc.). As such, Gensource is advancing the development of several vertically integrated, small-scale, potash production "modules" in its "Vanguard Area"
Each module can be an independent Joint Venture (JV), or a JV may decide to own multiple modules
Gensource will have an equity stake in ALL JV's, and will operate these modules
Multiple modules allow for operating synergies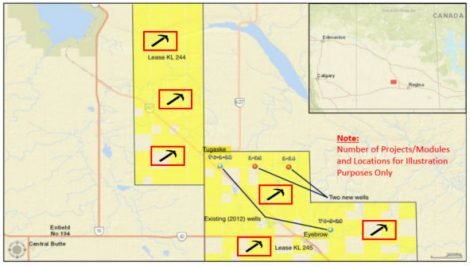 A Gensource module is: Clean
A Gensource project will have a small footprint, due to:
No salt tailings or brine structures (i.e. ponds) on surface
Brackish groundwater compatible for mining
Self-generating power (Natural Gas Boiler/Steam Turbine Generator – cleaner than purchasing grid power, which is primarily coal-fired (net GHG reduction)
Layout can accommodate doubling of capacity, without a footprint increase
"Right-sized" for rural Saskatchewan
Smaller consumption of utilities, and lower impact on community infrastructure
Gensource's Vanguard One Project has achieved a significant environmental assessment milestone, receiving a Ministerial Determination from the Saskatchewan Ministry of Environment of "not a development".  This is the first potash project to ever receive this positive assessment, which means that:
Gensource is not required to complete a full Environmental Impact Assessment (EIA), since it has been recognized that the Project has a number of positive environmental attributes
the Project will not trigger the stringent criteria of the Saskatchewan Environmental Assessment Act
the Project is unlikely to have a significant impact on the environment
this notification officially confirms that the Project can now proceed to the next stage of the environmental regulatory process: detailed construction licensing
A Ministerial Determination of "not a development" is a fantastic outcome for Gensource and our Vanguard One project and is exactly what the team was working towards.  It not only confirms one of our core values as a company – to provide a cleaner source of potash production – but it is also a crucial element to our Project success, as it enables a much faster,  more efficient and cost-effective overall project development timeline.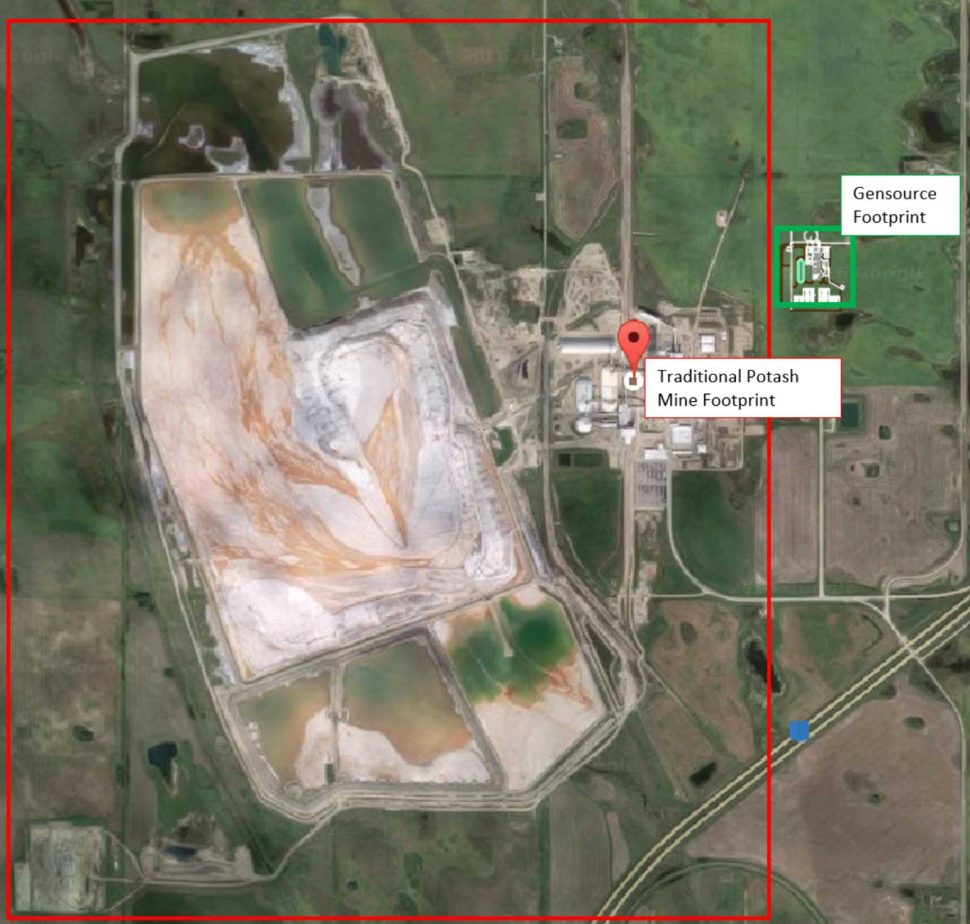 Source: Google Earth, modified by Gensource
These features are all enabled by Gensource's innovative selective solution mining and enhanced potash process & recovery technique.
The Vanguard One Project (the Project), is the first module to be developed by Gensource in the Vanguard Area.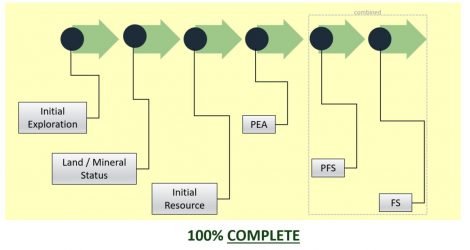 Vanguard One Feasibility Study Highlights:
Gensource completed the Vanguard One Feasibility Study, and announced the following highlights, in a news release. This was followed by a NI 43-101 Resource Report, complete with Mineral Reserves in the Proven and Probable categories.
Based on the guidelines established in the NI43-101 Technical Report the Vanguard Area has:
9.79 million tonnes (Mt) of final potash product classified as Proven & Probable Reserves
157 million tonnes (Mt) of final potash product in the Indicated & Measured Resource category
Over 313 million tonnes (Mt) of final potash product in the Inferred Resource category
All values final product potash (KCl), Muriate of Potash (MOP), Standard Grade, 60% K2O, White
All values are based on a base case of mining only one sub-member of the Patience Lake potash member, the Patience Lake 1 (PLM1)
The PLM1 averages 3.9m thick and 43% KCl grade across the Vanguard One area


The completion of the Feasibility Study and results obtained have confirmed:
The technical and economic viability of the Vanguard One Project, even in this time of low potash prices
The mining and processing methods continue to affirm that Gensource has selected the right approach to potash production
The Vanguard One Project offers a world-class potash resource, which is amenable to selective solution mining techniques
Even with the conservative assumptions included in the Study, the Project economics yield a strong return on investment, all while setting a new bar for environmental responsibility in the development of new potash production
The Project represents an innovative and relatively low risk approach to begin to change the existing structure of the global potash industry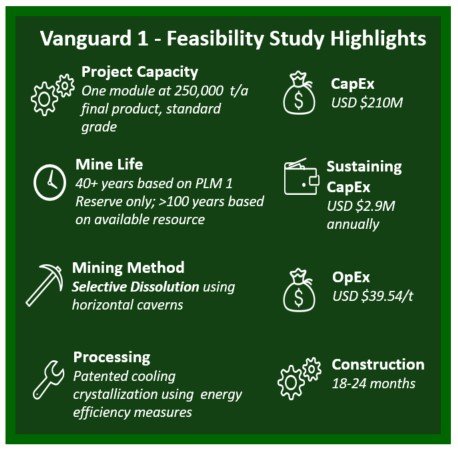 Financial and economic highlights include:
CAPEX = $CAD 279M including contingency

(

~$US 210M)
OPEX = $CAD 53.23/t final product

(

$US 39.54/t)
Average annual sustaining capital of $CAD 3.29 million

(

$US 2.91 million) or $CAD 15.68/t

(

$US 11.65/t) per year, includes full cavern replacement every 14 years
At a potash price of US$ 300/t and 45-year economic model:

Pre-tax NPV@8% of US$ 329 M with 18.3% IRR
Post-tax NPV@8% of US$ 236 M with 16.3% IRR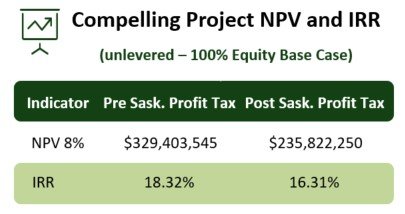 Confirming construction financing and moving the project to the next phase of development
Initiate detailed engineering
Initiate procurement for key long-lead items
Obtain construction licenses/permits
Initiate cavern drilling
Mobilize contractor for first construction activities (i.e. site civil and earthworks)