Canada's prominent position in the world potash industry derives almost exclusively from Saskatchewan. With more than a third of global potash production and nearly half of known deposits worldwide, Saskatchewan continues to be a world leader.
Saskatchewan is well known for its multiple thick seams of consistently high-grade potash. As a result, the product is not only high quality, but requires a relatively low cost to extract – proven through 50+ years of mining. With the employment of solution mining, Saskatchewan can expect long and prosperous production, with a minimal footprint.
Saskatchewan has a well-developed infrastructure, a stable (and supportive) geopolitical environment, and easy access to international markets (in particular, the United States) making Saskatchewan the logical choice for serious resource development.
In summary, Saskatchewan has:
nearly 50% of known deposits worldwide
consistent high-grade potash, multiple thick seams
proven low-cost continuous mining
small footprint and long mine life (solution mining)
excellent access to US and international markets
well developed infrastructure
predictable freight to tidewater
geopolitical stability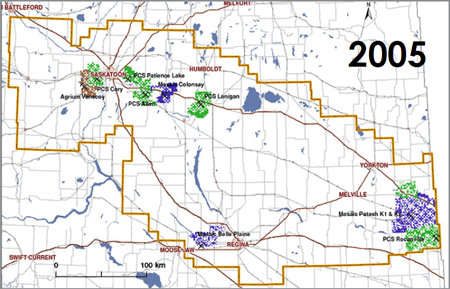 Saskatchewan Crown Reserve staked land positions 2005
Potash 1.0 – Start of Land Rush Era
Originally ~ 800,000 acres
Crown potash reserve wide open
Extensive land staking rush
New players with limited geo-tech knowledge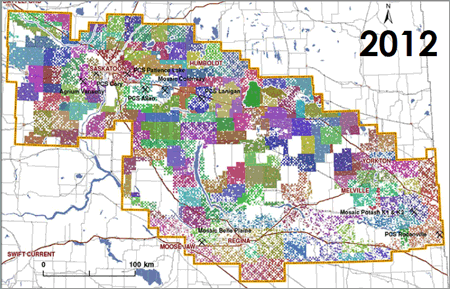 Saskatchewan Crown Reserve staked land positions 2012
Potash 2.0 – New Production Era Emerging
Currently ~ 11 million acres
Focus on Solution Potash Production
New technology emerging
Updated methodologies
Much land returns to Crown
Saskatchewan Potash Economics
Typical Saskatchewan solution potash mine economics:
Capex Per tonne ($Cdn)
Primary Mining: $881/t
Secondary Mining: $167/t
Total: $1,048/t
Operating Costs Mine Mouth ($Cdn)
Process Plant* $56/t
Mine Operating* $11/t
Total: $67/t
Corporate SG&A: $13/t
Transportation Costs (FOB Vancouver ): $45/t
*Operating costs assume water costs of $0.55/1m², natural gas $5/GJ, power $.05/kW & $5.85/Kva demand
*Costs are based on the typical solution mining approach. Gensource Potash Corporation is driving towards dramatic improvements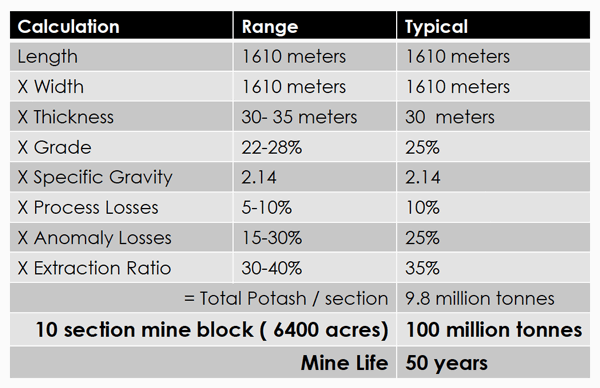 Typical Saskatchewan solution mining math