The Lazlo Area is located in central Saskatchewan along an infrastructure corridor between the major population centres of Saskatoon and Regina. The Area is located over a thick and rich region of the Prairie Evaporite formation known locally as the "Davidson Sub-basin".
The Lazlo Area is a very prospective area within the Prairie Evaporite and boasts:
Located Central SK, near town of Craik on a well serviced infrastructure corridor between Regina and Saskatoon
Highway 11 runs through property
Rail line runs through property
HV Power runs through property
Total area 123,000 acres
Several projects or mining blocks identifiable within the one area
3 on-property historic drill holes
Historical NI43-101 indicates excellent grades, thickness and temperatures
The Lazlo Area is large, comprising 123,000 acres and will accommodate several specific projects.
The potential projects within the Lazlo Area are made up of freehold mineral leases (21 years duration with renewal built in), plus a novel approach to engaging the interspersed Crown minerals.
Gensource Plans for the first project within the Lazlo area to have design parameters as shown in this chart. These parameters are based on the foreseen market size for the first small, but scalable, project.
Similar to Gensource's Vanguard Area, each Lazlo Area project can be designed as a small-scale, vertically integrated mining module, capable of producing 250,000 tonnes per year.  These modules will all deploy Gensource's Selective Solution Mining techniques, which have a significantly reduced project footprint, are cheaper to construct and operate, and are friendlier on the environment as there is no salt tailings produced.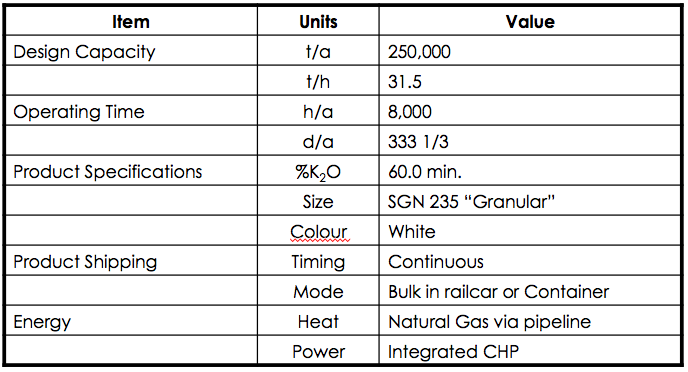 An updated NI 43-101 report was completed in December 2014 and defines an "exploration target" complete with ranges of expected resource grades and tonnages (View)
Based on the 4,322 acres in the project area for which Gensource has lease agreements for mineral rights, the report estimates the following potential tonnage and grade ranges for the Patience Lake, Belle Plaine and Esterhazy Members of Prairie Evaporite Formation:
Patience Lake Member: from 10 m to 18 m yielding mineralization ranging from 346 million tonnes

(

Mt) sylvinite grading 15% K2O to 662-Mt sylvinite grading 22.3% K2O;
Belle Plaine Member: from 9 m to 10 m yielding mineralization ranging from 324-Mt sylvinite grading 15% K2O to 368-Mt sylvinite grading 19.9% K2O; and
Esterhazy Member: from 4.5 m to 10 m yielding mineralization ranging from 167-Mt sylvinite grading 15% K2O to 378-Mt sylvinite grading 15.7% K2O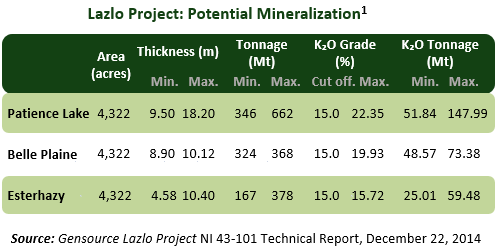 On April 13, 2015, Gensource announced the completion of a scoping study for the first Lazlo project (View), which confirmed the initial assessment of the selective mining and innovative processing approach to a new potash production facility.